External Consultation
The Growing Up in Ireland Study Team undertakes a wide-ranging consultation process. The following summarises the main bodies and processes.
Consultations with other academics and policy-makers:
Multi-institute Scientific Advisory Group
Inter-departmental Steering Group
Research Ethics Committee
International advisors commissioned by the DCEDIY
Stakeholder groups
Other longitudinal studies who have undertaken fieldwork with particular age groups already
Literature reviews
Other consultation streams:
Internal expertise of Study Team, Management Group and DCEDIY Project Team
Feedback from families and interviewers
Legislation
Consultations with children and young people
Children's Advisory Forum
At the start of the project in 2006, a panel of over 80 children from a sample of schools around the country was set up to advise the Study Team on the development of the study. The children provided input into questionnaire content and design, helped to design the study logo and gave a children's perspective to various study materials. Although the Children's Advisory Forum was largely focused on the initial set-up of the Study and the instrumentation for Wave 1 of the Child Cohort, the Study Team have continued to build on the Forum's invaluable input.
Focus groups
In preparation for Growing Up in Ireland Phase 2, the Study Team – with the help of the DCYA and schools – convened a number of focus groups with young people aged 17-18 years. A single large day-long session was carried out with young people from around the country who participate in Comhairlí na nÓg. These were supplemented by focus groups in individual schools and Youth Reach programmes.
To update our consultations with younger children in preparation for the Infant Cohort at 9 years, four individual focus groups were arranged in schools around the country and within the ESRI. These covered current issues for 9-year-olds as well as asking children to give their feedback on new data capture methods.
The Study Team would like to thank all of the children, young people, parents, schools and other organisations who have participated in and facilitated in all of the consultation phases over the years.
Governance
The work of the Growing Up in Ireland team is overseen by a network of internal and external groups. These include:
The DCEDIY Project Team and Steering Group
A specially-convened Research Ethics Committee
International reviewers and advisors
Governance Structure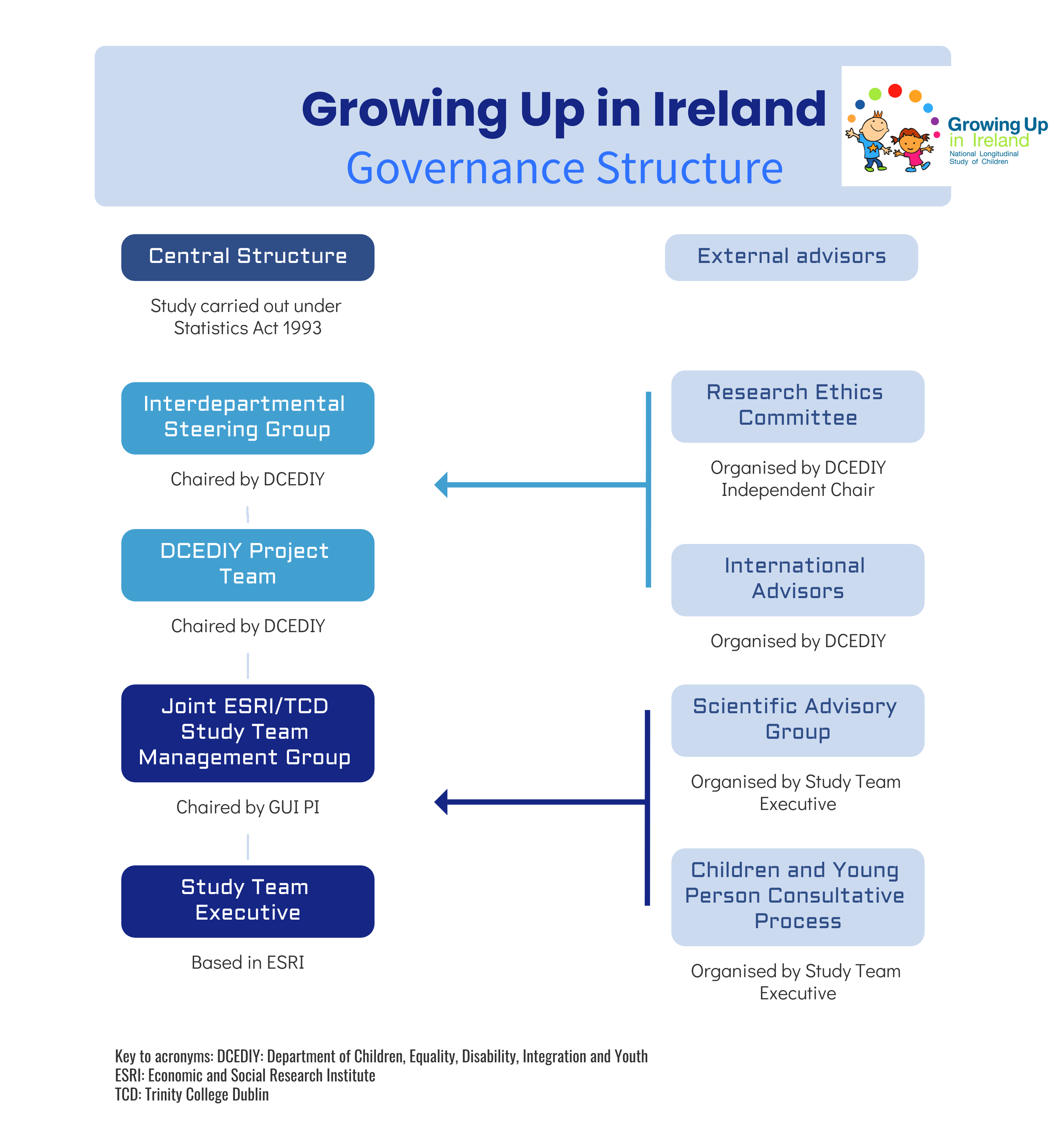 Office of the Children's Ombudsman
The ESRI comes under the remit of the Office of the Children's Ombudsman.  Please see here for further details.